XM-Let It Snow on Gingerbread Circle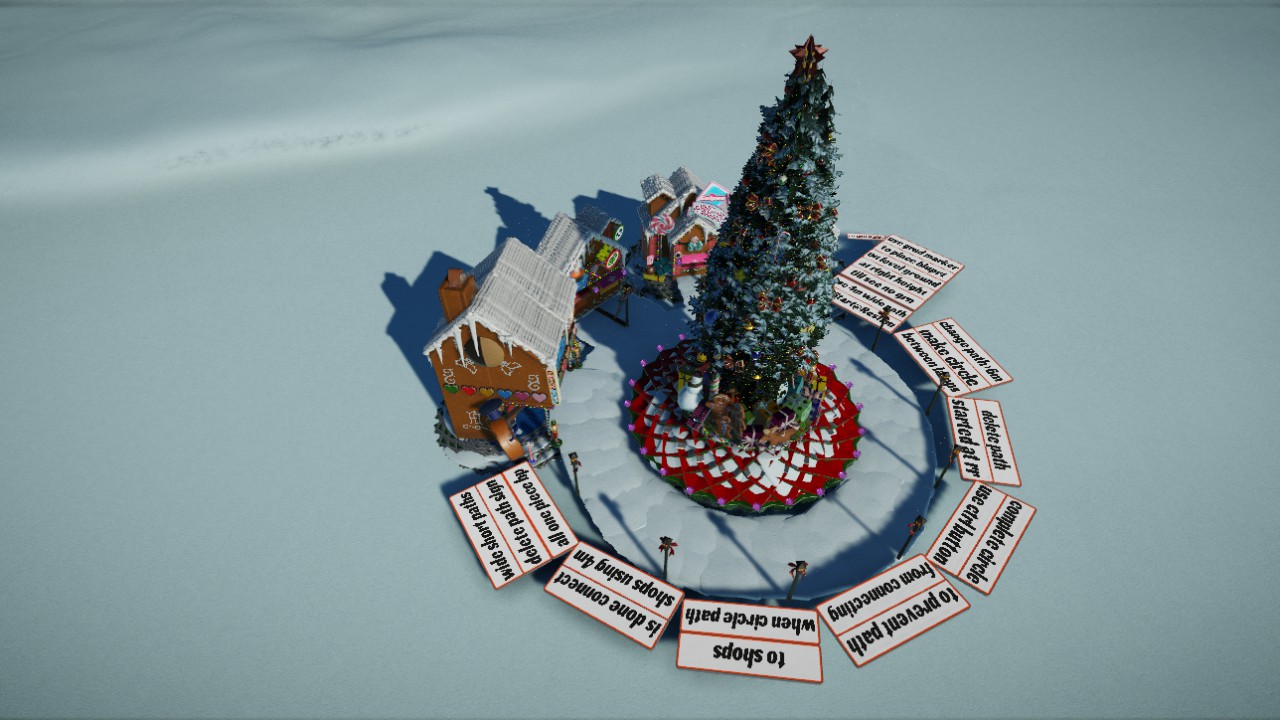 Author:
XMG
Last revision:
21 Dec at 15:26 2016 UTC
Description:
I have started a new Planet Coaster tradition that began with the Pumpkin of Terror (which did not include a message). For every Calendar Year Festive Holiday/Event, I will release an exclusive blueprint celebrating that Holiday/Event that will include a special hidden message (seek and you shall find) for community members who wish to download the workshop item.
So for Xmas 2016, I give you 'Let It Snow At Gingerbread Circle'. This is a festive item that has falling snow all around the piece and a huge Christmas Tree as a centerpiece. It is surrounded by gingerbread food and drink shops (chief beef, foxy coffee, missy good time food bar, and gulpee slush), an ATM , and a restroom and contains some light Holiday humor.
This is an elevated blueprint with clear signage instructions on how to plant at the correct ground level using the level marker and how to make the paths. When creating the path around the circle, it will break up the snow covered path guide so that parts of paths are exposed while parts are covered with snow giving a very realistic scene.
Once the path is laid, the signage can be deleted as it is a piece one-blueprint (25 pieces). You can then plant benches along the outside edge of the path circle while putting trash bins on the inside edge of the path circle. This comes complete with special night lighting, music, carolers, snow covered paths, and all the falling snow you can imagine. Can be used as a centerprice or as a starting point for any festive area.
And with this blueprint, I would like to wish everyone a very safe and happy Merry Christmas…